Machine Vision Systems
A machine vision system consists of computer hardware and software working together with cameras and lighting to capture images of objects for the purpose of making a quality control decision. When the image is captured and stored in memory, it is algorithmically compared to a predefined image or quality standard in an effort to detect defects or anomalies.
This machine vision technology can be applied in a number of different applications and in the case of the PPT VISION range from AIS, is tailored specifically for use in manufacturing applications. Using machine vision technology for purposes of inspection and quality control enables manufacturing companies to prevent defective products from being shipped to customers and to improve their manufacturing processes and reduce costs. Commercial use of machine vision technology for manufacturing quality control began to emerge in the early 1980s. Machine vision systems at that time were complex to program and maintain, difficult to install, limited in performance and not cost-effective.
Through advances in microprocessor and software technologies, these barriers have been dramatically reduced in recent years, enabling machine vision to emerge as a powerful process control technology that enables manufacturers to improve quality and increase productivity. PPT VISION's machine vision based smart camera solutions are primarily targeted at providing manufacturers with 100% inspection in high speed, discrete part manufacturing applications. This typically replaces older off-line random sampling techniques or human vision inspection techniques as a means of monitoring quality. Therefore, IMPACT machine vision based smart cameras are a key technology in enabling manufacturers to achieve zero defect production.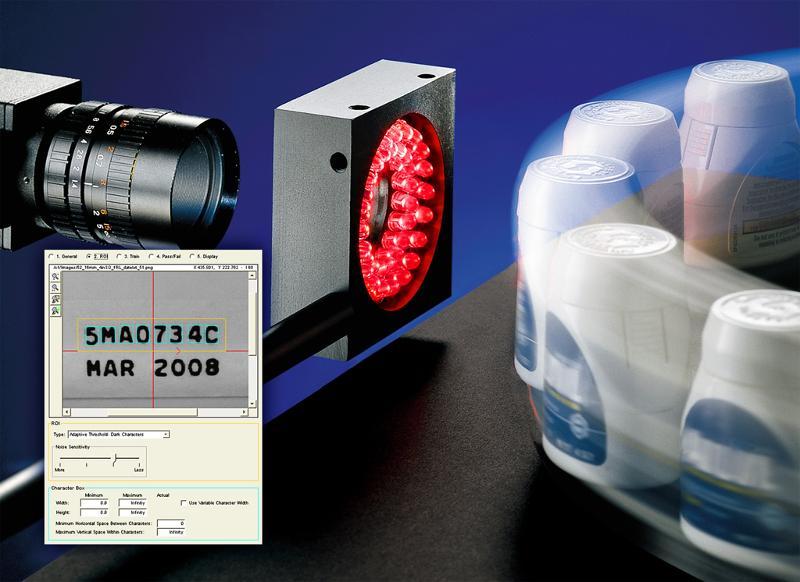 Benefits of Machine Vision Systems
Eliminate defects – With vision, you can 100% inspect your products to ensure that they are error free.
Quality is improved – Sample testing can be replaced by 100% inspection.
Automate production – Machine Vision enables efficient use of manufacturing lines by allowing production equipment the ability to automatically locate and identify items.
Machine Vision systems provide the most reliable visual inspection results with the added benefits of inspecting in dirty, rough, industrial and hazardous environments that may not be safe for human inspections.
Track and identify parts – Vision can be used to automate tracking of parts and products by reading 1D and 2D barcodes.
Cost Reductions – Using vision can dramatically reduce waste by detecting process errors early.
Vision Sensors
DataVS1

The DataVS1 vision sensor series is the easiest solution for machine vision applications. The setup does not require a PC and it is very quick and intuitive thanks to the VSC unit, the external configurator with 3.5″ colour display. The sensor setting is carried-out through three simple steps: region of interest definition, control type selection, parameter adjusting. DataVS1 is able to carry-out many different kinds of control such as presence/absence verification, position, object counting and OCV.

PDF BROCHURE
MOVIE
DataVS2

The DataVS2 vision sensor series presents all the characteristics able to solve artificial machine vision applications in a flexible and intuitive way. The sensor is configured via PC through Ethernet interface. The configuration software has been developed in order to lead the customer through the inspection creation process step by step. DataVS2 is available in four different versions according to the installed control tools: Object recognition (OBJ), Advanced Object recognition (AOR), Identification (ID) and Professional (PRO).

PDF BROCHURE
MOVIE
Smart Cameras
P Series Smart Camera

The P-Series is an ultra-compact cost effective smart camera offering advanced machine vision functionalities in a fully embedded stand-alone device. The P-Series is available in two different resolutions: VGA (P10) and 1.3MP (P15). Lenses and illuminators are fully interchangeable and can be mounted and replaced by the user. Five focal lengths and seven lighting options result in 70 different combinations delivering outstanding installation flexibility while offering superior image acquisition capabilities. The P-Series is powered by the IMPACT LITE software package. With more than 25 inspection tools, IMPACT LITE revolutionizes device programming by making the inspection configuration quick and intuitive.

PDF BROCHURE
MOVIE
A20 Series Smart Camera

The A20 smart camera provides the perfect balance of size, functionality and pricing to easily support a wide multitude of tasks ranging from simple quality controls to complex machine vision inspections. The A20 Smart Cameras features a WVGA 1/3" greyscale imager, discrete I/Os, Serial and Ethernet interfaces thus representing a fully embedded stand-alone device able to offer high return on investment solutions.

PDF BROCHURE
MOVIE
T2x Series Smart Camera

The T2x Series smart camera products are stand-alone, general purpose, industrialized machine vision inspection systems that allow for incredible flexibility in programming through the Impact software. With models ranging from standard VGA resolution up to 2 Megapixels, the T2x Series smart cameras can deliver the right solution for your general purpose machine vision needs or specific application inspection requirements.

PDF BROCHURE
MOVIE
MX80 Vision Processor

The next-generation MX80 Vision Processor extends the power and performance of MX-Series to faster applications, advanced algorithms and higher-resolutions. The MX80, with its Intel® Core™ i7 quad-core microprocessor , 4GB memory and four independent Gigabit PoE (Power over Ethernet) ports provides more image processing speed and power for up to four unique MX-Series camera inspections running parallel.

PDF BROCHURE
MOVIE
Vision Cameras
M1-M3 Series Cameras

M-Series cameras enable fast integration of challenging machine vision solutions. The unique ability to mix and match color, grey-scale, ingress protected, multi imager, right angle and line scan cameras with an MX-Series processor lets you define, select and deploy the perfect imaging solution for high-speed, multi-camera machine vision inspections.

PDF BROCHURE
MOVIE
M5xx Series Cameras

High performance linescan GigE cameras.
Available with 1K or 2K sensors and with line rates of up to 56.1 KHz.

PDF BROCHURE
MOVIE
M-Series Speciality Cameras

M-Series speciality cameras support today's complex vision requirements that call for high-speed, high-quality inspections and measurements. These GigE Vision-compliant models represent the industry's latest advances in camera technologies, powered by IMPACT software and supported globally by exceptional engineering expertise and customer service. M-Series speciality cameras can be easily integrated with MX-Series processors thus extending the embedded systems capabilities.

PDF BROCHURE
Datalogic IMPACT Software Suite

Impact Software Suite, with over 120 inspection tools and 50 user interface controls, allows users to create unique inspection programs and develop user interfaces quickly and easily using the intuitive graphical user interface.
The integrated Vision Program Manager (VPM) provides hundreds of image processing and analysis functions. Use VPM to enhance images, locate features, measure objects, check for presence or absence, and read text and bar codes.

PDF BROCHURE
MOVIE