LVS® 7500 with Printronix T5000 Label Inspection System
The latest addition to the LVS range couples the LVS
®
7500 label inspection system with the Printronix T5000 printer to create the only label print and inspection solution able to automatically rewind and overprint faulty labels.
Utilising the state of the art inspection capabilities of the LVS® 7500 with the print, backfeed and overprint functionality of the T5000, this fully integrated system is ideal for batch label printing allowing an operator to set the printer running and then walk away, safe in the knowledge that any faulty labels will be identified and struck off automatically.
This functionality extends to serialised labels as any faulty labels detected are re-printed ensuring serial number sequences are maintained.
The sophisticated software supplied with the system is able to verify
1D
and
2D
barcodes to ISO/ANSI standards, uses OCR/OCV technology to analyse text fields and identifies blemishes caused by ribbon crease and damaged print heads. Multiple sectors can be analysed on each label with a minimum passing score being entered for each.
Capable of verifying both 1D and 2D barcodes, the LVS® 7500 is 21-CFR Part 11 Compliant Ready and strictly complies with ISO/CEN/ANSI barcode quality and symbology specifications. For more information on barcode standards, follow this link to the GS1 Website.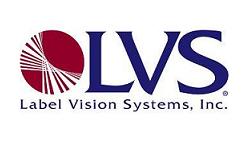 The LVS® 7500 provides full ISO/ANSI barcode verification of 1D and 2D codes.

When integrated into the Printronix T5000 thermal printer, the 7500 allows 'last label out' inspection, on demand printing and automatic label strike out.

Multiple barcodes can be verified in both ladder and picket fence orientation.

The LVS® 7500 inspects all nine ISO/ANSI parameters plus added features of determining blemishes, opacity, and human readable validation.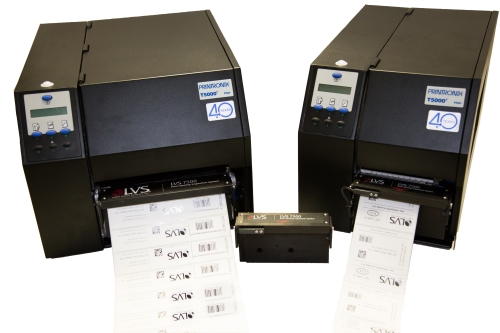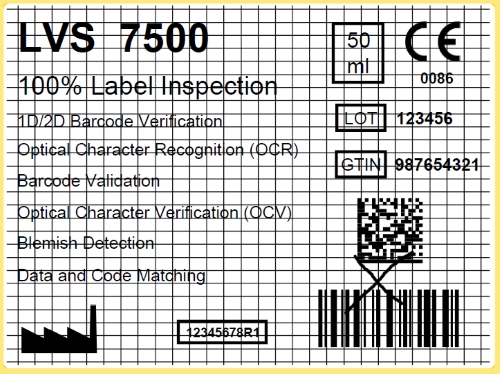 When a faulty label is detected, the printer rewinds and overprints that label before re-printing it, ensuring no loss of sequential data.

OCR (Optical Character Recognition) and OCV (Optical Character Verification) inspection provide validation/verification on multiple text fields simultaneously.
The LVS® 7500 is the most reliable in-line barcode verifier and label inspection unit on the market and the only one able to verify 1D and 2D barcodes.
Serialisation checks can be performed by validating the data in both barcode and human readable fields and highlighting any duplication.
Blemish detection with variable tolerances and zoned areas allows the detection of print defects such as ribbon crease and printhead wear.

Multiple barcode symbologies are supported including any combination of Linear, 2D and Stacked Linear codes all of which can be verified on one label within the field of view.

The LVS® 7500 is 21-CFR Part 11 compliant ready so ideal for use in the pharmaceutical and medical device industries.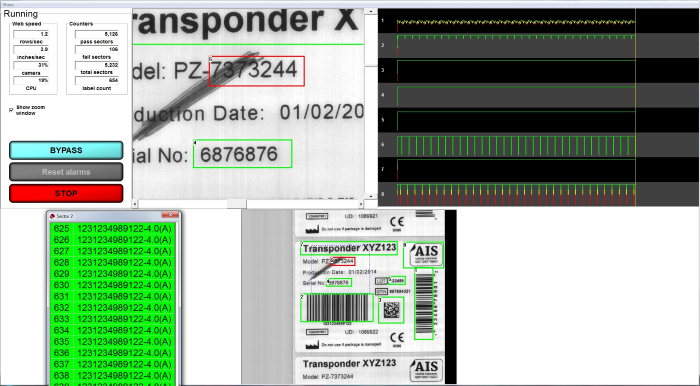 Inspection Areas
Barcode Verification to ISO/ANSI Standards (1D and 2D Codes)
Optical Character Recognition (OCR)
Optical Character Verification (OCV)
Barcode Validation (1D and 2D Codes)
Blemish Detection
Serialisation and Duplication Checks
Barcode Symbologies
Aztec Code
Composite Code CC-A
Composite Code CC-B
Composite Code CC-C
Codabar
Code 128
Code 39
Code 93
DatBar Expanded
DataBar Limited
DataBar Stacked
DataBar-14
EAN/JAN-13
EAN/JAN-8
ECC-200 (Datamatrix)
GS1-128
Interleaved 2 of 5 (ITF)
ITF-14
Micro QR Code
Micro PDF417
Pharmacode – Laetus
QR Code
UPC-A
UPC-E
Barcode Application Standards
ISO/IEC 15415:2004(E)
ISO/IEC 15415 Tec.Cor. 1 2008
ISO/IEC 15416:2000(E)
ISO/IEC 15426-1:2006(E)
ISO/IEC 15426-2:2005(E)
ISO/IEC 15426-2 Tec.Cor. 1 2008
All supported ISO/IEC symbology specifications