Label Inspection
AIS are sole European distributors for the incredible LVS® 7500 and LVS® 7000 Print and Label Inspection Systems. These ultra-compact systems offer the latest in vision technology combining high resolution cameras with sophisticated software that that grades any 1D and 2D barcode to ISO/ANSI standards, performs Optical Character Verification on variable text data, checks for duplicate serial numbers, pattern matches for blemish or print defects and in the case of the LVS® 7000, carries out Delta E colour inspection.
LVS® (Label Vision Systems) are based in Atlanta, Georgia and have been producing high end, high speed web verification systems for many years culminating in the latest LVS® 7000 model.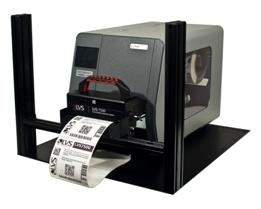 The experience gained from this has led to the development of the LVS® 7500 designed specifically for use with thermal label printers and offering the very best in print quality control at an affordable price.
AIS also offers a number of other label inspection options that can be implemented to ensure that label is both present and positioned correctly. These systems can be configured to automatically reject any product that fails to satisfy the verification thresholds or in the event of a missing, damaged or incorrectly positioned label.
Label presence detection
Label position validation
Barcode validation and verification
Optical Character Verification
Print defect detection
Product eject systems
LVS® 7500 Label Inspection System
LVS® 7500 Label Inspection System
This ultra-compact unit is the latest in vision technology offered by Label Vision Systems. The tiny, high resolution camera system operates with virtually any thermal printer and provides 100% label inspection allowing the user to accurately grade any 1D and 2D barcode, perform Optical Character Recognition and Verification (OCR/OCV) on variable text data and highlight blemishes and print defects. The 7500 validates the data within multiple sectors across multiple jobs, allowing it to check for duplicates making it ideal for serialisation applications. To learn more about the LVS® 7500, follow this link.

PDF BROCHURE
MOVIE
LVS® 7000 Label Inspection System
The LVS® 7000 High Speed Web Inspection System
The LVS® 7000 is the only Vision System on the market capable of blemish/defect detection, variable data validation, Delta E colour inspection and 1D and 2D barcode reading and grading to ISO/ANSI standards. The LVS® 7000 is a vision based quality inspection system designed to inspect print quality at high line speeds and is ideal for use on print presses and rewinders used in label, carton and flexible film manufacturing.

PDF BROCHURE
MOVIE
VB-5 Barcode In-Line Validation System
VB-5 Barcode Validation System
The VB-5 is designed to connect to any fixed mount 1D or 2D barcode scanner with an RS-232 interface. The unit is mounted to your production line and monitors every barcode to confirm that the data is present, correct and of acceptable quality. If a product passes without the correct barcode the VB-5 has a bank of relays to interface with external pieces of equipment and the built in LCD displays a range of production statistics.

PDF BROCHURE
MOVIE
AIS CodeCheck 100/102 Barcode Validation Unit
AIS CodeCheck 100/102 Barcode Validation Unit
The AIS CodeCheck 100/102 is a printer mounted, unattended barcode validation system that can be mounted to any label printer and independently inspects every barcode on every label. The CodeCheck 100 will confirm the presence and data content of any 1D or 2D bar code on your labels as they print. If a 1D or 2D barcode is missing or incorrect, the CodeCheck stops the printer and sounds an alarm to make the operator aware of the error. This is the most cost effective and efficient on-printer barcode validation solution available.

MOVIE