The Royal Mail Mailmark™ Barcode
The Royal Mail Mailmark™ barcode standard has been introduced to replace the traditional 'Town & Crown' insignia marked on postal items with a machine readable code. At a high level, Mailmark™ barcodes can be either 2-Dimensional (2D) Complex Mail Data Mark (CMDM) barcodes or 4-state barcodes.
A Complex Mail Data Mark (CMDM) is a 2 Dimensional barcode that has the specified format of a Datamatrix type ECC200 code complying with the international standard ISO/IEC 16022, version 2006. ECC200 is the latest version of Datamatrix and determines the size of the symbols. ISO/IEC 16022, v2006 defines the requirements for Data Matrix and specifies the symbology characteristics, data character encodation, symbol formats, dimensions and print quality requirements, error correction rules, decoding algorithm, and user-selectable application parameters.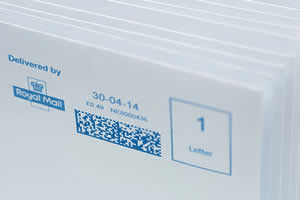 A CMDM Mailmark™ barcode has a format, data structure and content that adheres to the Royal Mail specification and can be any of the following formats of Data Matrix type ECC200 as defined in ISO/IEC 16022:
Format 7 (24 x 24 modules)
Format 9 (32 x 32 modules)
Format 29 (16 x 48 modules)
It's particularly important that the Mailmark™ barcode complies with the C40 Basic Character set and C40 encodation scheme as described within ISO 16022. This requires a C40 latch and unlatch character to be placed at the beginning and end of the data string respectively.
The INTEGRA range of Barcode Verifiers from Label Vision Systems are available as desktop or handheld units and include the Royal Mail Mailmark™ barcode application standard allowing them to not only confirm the print quality of the code, but also that the encoded data meets the requirements. This includes the C40 latch and unlatch characters. In addition, the INTEGRA range of verifiers are capable of verifying all other 1D and 2D barcodes, are GS1 certified and strictly comply with ISO/CEN/ANSI barcode quality and symbology specifications.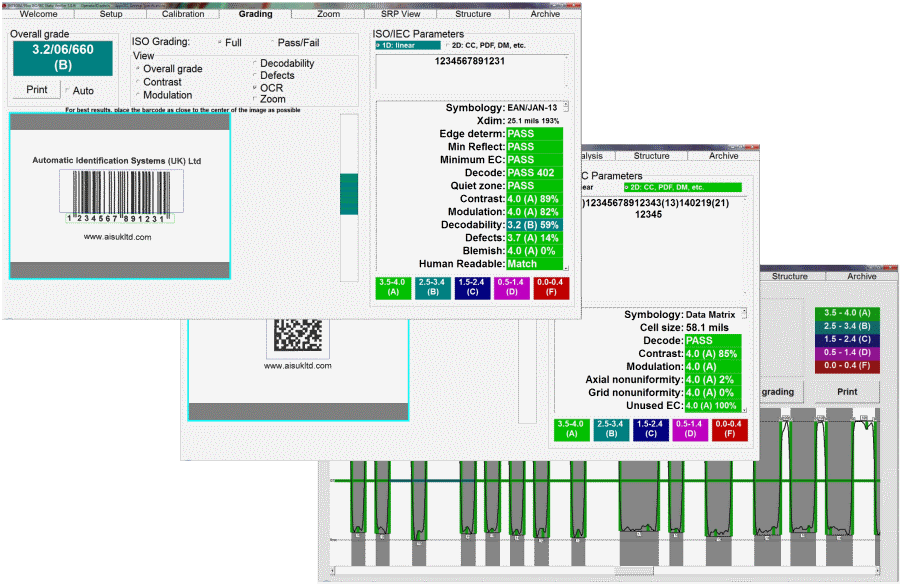 All LVS® verifier models are supplied with sophisticated software that analyses the barcode quality and data by inspecting all major ISO/ANSI parameters. The software supports multiple password security levels, records a visual image and record of every job and provides a full audit trail making it 21 CFR Part 11 compliant ready.
All current 1D and 2D barcode symbologies supported
Able to verify codes in any orientation
Verification to ISO 15415 and ISO 15416 standards
Desktop and handheld and in-line models available
Log files and reports generated automatically
21 CFR Part 11 compliant ready
GS1 US certified
Offline Barcode Verifiers
LVS® INTEGRA 9580

The INTEGRA 9580 is the latest handheld barcode verifier from Label Vision Systems offering full ISO/ANSI barcode verification. The 9580 is unique in being available as a cost effective linear

(1D)

barcode verifier, or as a combined

1D/2D

verifier able to verify all one and two dimensional barcode symbologies. Both models feature the same 5mp camera and as an added benefit, the

1D

version can be upgraded to

1D/2D

with a simple software activation. To find out more about the INTEGRA 9580, follow this

link

.

PDF BROCHURE
LVS® INTEGRA 9510

The INTEGRA 9510 is a desktop barcode verifier able to verify the quality and validate the data within both

1D

and

2D

barcodes to all common industry standards including ISO 15415, ISO 15416, ANSI and GS1. The integrated 5 mega-pixel camera allows it to analyse very small codes down to an X dimension of 4.0 mils for 1D and 5.9 mils for 2D barcodes and as well as providing an overall grading, a detailed analysis highlights any problem areas in the image quality or data structure. To find out more about the INTEGRA 9510, follow this

link

.

PDF BROCHURE
LVS® INTEGRA 9570

The INTEGRA 9570 is a handheld barcode verifier able to verify the quality and validate the data within both

1D

and

2D

barcodes to all common industry standards including ISO 15415, ISO 15416, ANSI and GS1. The 9570 is ideal for the verification of outercase barcodes and logistics labels and provides an overall grading and a detailed analysis highlighting any problem areas in the image quality or data structure. To find out more about the INTEGRA 9570, follow this

link

.

PDF BROCHURE
MOVIE