The Matrix 410N Barcode Reader
The Matrix 410N™ is an industrial 2D barcode reader purpose built for the most complex traceability applications in material handling and logistics. This high speed barcode reader is equipped with an ultra-fast image sensor that performs at 2.0 mega-pixels and 45 frames per second.
The Matrix 410N™ provides multiple communication options for increased flexibility and cost effectiveness. The industrial imager offers embedded Ethernet connectivity including standard communication such as TCP/IP, HTTP, FTP, as well as common industrial fieldbus communication protocols such as PROFINET IO, EtherNet/IP and Modbus TCP/IP.
In addition to flexibility the Matrix 410N™ is equipped with features for increased ease of use and configuration with the option for a single or multi-device layout for barcode scanning over large areas or multiple sites.
Powered by DL.CODE software, the Matrix 410N™ barcode reader offers an easy-to-use graphical user interface while supporting in-line monitoring functionality, including live image display, reading statistics and diagnostics. The Matrix 410N™ also has image saving capability for viewing read statistics such as no reads and wrong reads and is able to store up to 3,000 images either on-board or at an external FTP client.
The embedded laser aimer and the patented Green Spot projected onto the scanning area offers the user an immediate indication of reading performance without the need for any external accessory or software.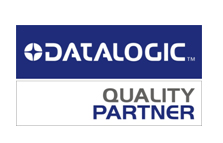 Features
All 1D and 2D barcodes supported
Patented ultra-fast strobed lighting
Patent Pending Packtrack 2D for short object gapping in sortation applications
Embedded Ethernet connectivity
On board image storage saving up to 3000 images (scaled).
External connection box with parameter back up memory and display
Single reading point or multiple device in cluster
Laser pointing system, good read Green Spot, focusing aiming system
Remote web-based WebSentinel supervisory software with image archiving database
Applications
Analysis of 'Good', 'Wrong' and 'No Reads'
Small Objects Sorting
Totes content scanning
End of line scanning. Single or multi-side scanning
Part traceability in assembly
Automated storage/retrival
Automated Order fulfilment/validation